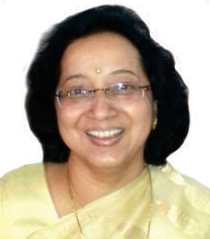 Dr. Sujata Upadhye
Education:
Passed B.Sc with Botany in 1984 from S.P. College ranked first in the University.
Passed M.Sc with Genetics from University of Pune in 1986 with first Rank.
Got national talent search Scholarship (NTS).
Did Ph.D under Dr.P.C Sharma in "Medico-botanical studies of some plants mentioned in Nath samprdaya".
Received gold medal and the best paper presentation award for a research paper read in 'International conference on ethno-botany" at Tirupati in the year 1998.
Received honorary D.Sc degree from Medicina alternativa ,Sri Lanka. Was also honoured with "young scientist award" by CSIR Sri lanka in 1999.
Got diploma in high precision thin layer chromatography from Anchrome laboratories, Mumbai.
Got diploma in "Nutrition and dietetics" from VLCC, Delhi.
Got Scholarship from "Sadbhav Foundation", Mumbai for the research work.
received 'Vidnyanacharya" award on 25th march,2014 for the contribution in the research of medicinal plants.
Other Achievement:
Worked as resource person in animations and educational software development for Jog Software solutions limited. This software was used all over India as well as abroad.
Work Experience:
Worked as lecturer in S.P.College from 1986 to 1988.
Coaching in private classes for medical and paramedical entrance examinations since, 1986. This institute is for coaching 11th, 12th, medical, paramedical, pharmacy, biotechnology, IISER entrance examinations. So far, more than thousand students have got admissions in medical course and about thousand in various biology related courses. The coaching is also focused on guiding students for admissions in research institutes such as IISER, thorough Bio-Olympiad, and KVPY etc.
Specialty in training National level entrance examinations for AIIMS, AIPMT, AFMC, CMC, MANIPAL, BITS, VIT courses in biology.
Excellent career counseling for the studies in India as well as abroad.